my Windoze 2000 installation notes
Click here for my Linux/Fedora Core installation notes.
---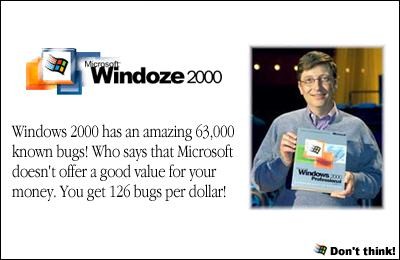 (image saved from this Apple postcards site)
A few days ago (November 2002) I accidentally installed an incorrect IDE driver in Windows 2000. The machine crashed instantly, and wouldn't boot anymore: INACCESSIBLE_BOOT_DEVICE. Booted into Linux, where I found every Windows disk (including the NTFS volume that had Windows 2000) was perfectly readable.
My attempts to fix this: booting in Safe mode, "last known good configuration", from CD-ROM, Recovery console, FIXBOOT, disabling some services... nothing worked.
Booted back into Linux, copied the data I wanted to keep from the NTFS volume, and decided to re-install Windows 2000:
initial setup: 10 minutes
detecting devices: 5 minutes
name and clock, networking: 2 minutes
"components": 2 minutes
"final tasks": 4 minutes, reboot (1)
finding and installing a network driver for an Intel D815EEA motherboard: 30 minutes, then a KERNEL_TRAP error, crash, reboot (2)
Nvidia display driver download and install, 5 minutes, reboot (3)
crash (system froze), reboot (4)
running "Windows Update", crash, reboot (5)
trying again, crash, total 10 minutes, reboot (6)
trying again, it worked (!), download and install of Service Pack 3, 30 minutes, reboot (7)
download and install security updates, 7 minutes, crash after 8 out of 13 updates were downloaded, reboot (8)
remaining security updates, 3 minutes, reboot (9)
download and install DirectX, 4 minutes, reboot (10)
sound driver, 1 minute
ATA100 driver, 4 minutes
Total: TWO hours, and TEN reboots. Then you have an OS with Explorer, Minesweeper, and such. No other applications. After the initial install I removed the "quick launch" icon for Outlook ("sure you want to move it to the recycle bin?", NO I WANT TO DELETE IT, EMPTY RECYCLE BIN, "sure you want to remove this item?"). The icon reappeared sometime while installing the subsequent updates...
No I don't dislike Microsoft software. DOS 5.0 was actually ok.
---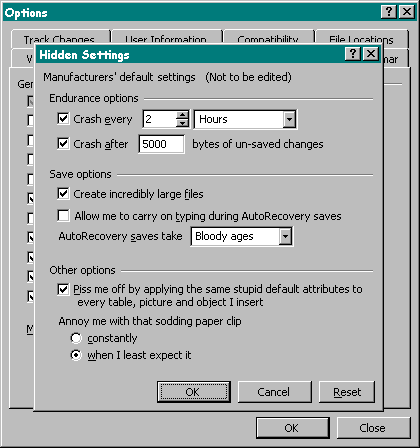 ---
Patrick Min