| | |
| --- | --- |
| | [evofunc] evolutionary optimisation package |
Introduction
This C++ library implements an evolutionary optimisation method, one of many methods to do non-linear optimisation. If you have a function for which you'd like to find a global minimum, and can't do so analytically, then maybe this package will help.
The library is designed for the following problem in particular: given a source object that can be transformed, what are the transformation parameters that take the source closest to the target? Or, in a schematic: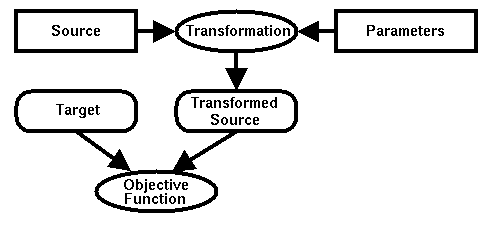 All you need to provide is:
the type of the source, transformed source, and target object
a function that transforms an object of the source type, given a set of parameters
a function that computes an error value given an object of the transformed source type and one of the target type
Features
small
easy to install and compile
compiles under Linux, Mac OS X, and Windows
contains default settings for parameters that should work in most cases, so no need to tweak parameters
The package is designed using a technique called Traits classes. The manual contains some explanation on how these work.
Download
Compiling
The archive file will unpack to a subdirectory
evofunc-0.47
Linux and Mac OS X


run make in the directory evofunc-0.47/src/lib
add this directory to your include file search path (with -I) and your library file search path (with -L)
add -levofunc to your link line
this package was successfully compiled under Linux kernel 2.4.20, using gcc 3.2.2, and under Mac OS X kernel Darwin 6.8, also using gcc

Windows


create a Win32 project and set it to "static library" and "no precompiled headers"
change the project location to evofunc-0.47/src/lib
add all the files in evofunc-0.47/src/lib
build the project
this package was successfully compiled under Windows 2000, using Visual Studio C++ 7.1
Feedback
This is only version 0.47 of the package, and there is much room for improvement and extensions. Send me e-mail (patrick dot n dot min at gmail dot com) if you have any questions!
Thanks to Zhang Hao, Frank ter Haar, Tim Adelaar, and Rainer Typke for sending their bug-fixes and suggestions.
This work was supported by the GIVE Center at Utrecht University, the Netherlands, and the Dutch Technical Science Foundation (STW).
---
You are visitor number 58177
Last modified: Tue Jul 4 08:13:53 CEST 2006
---
Patrick Min